2018 Spring and Summer Season
Alabama Shakespeare Festival's BEAR COUNTRY
Friday, February 23
7:00 pm
All Seats $22
Alabama Shakespeare Festival's BEAR COUNTRY is the record-setting, critically acclaimed play about legendary University of Alabama football coach Paul "Bear" Bryant. The play is an up close and personal journey through the incredible life and times of the iconic Crimson Tide coach. This ASF production, which stars acclaimed actor Rodney Clark as Coach Bryant, holds the record as the best-selling play in the history of ASF's Octagon stage.
ASF's statewide tour of BEAR COUNTRY was branded a '200 ALABAMA' Bicentennial project –  Year Two: Legendary People of Alabama – and winning six college football national championship titles clearly qualifies as an historic, legendary achievement. Growing up dirt poor, being picked on as a kid, playing a game against arch rival Tennessee with a broken leg, fighting everything from bears to a national magazine to the voices in his head – Bear Bryant came out a winner. Even Auburn
"Bear Country feels like a winning game in a fans appreciated his grit and respected the passion of his mission-driven life to win. championship season." — Tuscaloosa News
It is a distinct honor for The Ritz to present the 'State Theatre of Alabama' for our first time. We are also grateful for a presenting grant from the AL State Council on the Arts and a Production Sponsorship gift from The Family of William B. McGehee III, which made it possible to present this distinguished production to open our Spring 2018 Season.
Get Tickets HERE
---
Black Jacket Symphony
Tom Petty and the Heartbreakers
Damn the Torpedoes
Saturday, March 10
7 pm
All Seats $27
The world lost a genuine titan of rock music on October 2, 2017, and it is with pride that The Ritz will present a tribute to the late Tom Petty and the album that propelled him to superstardom, "Damn the Torpedoes" as only Black Jacket Symphony can recreate. Mostly with his long time band The Heartbreakers, Petty sold more than 80 million records over a 50 year career, making him one of the best-selling recording artists of all time. He was inducted into the Rock and Roll Hall of Fame in 2001.
Damn the Torpedoes" was Petty's third album. Its influence not only infused new vitality into the genre in the late '70s, but solidified Petty's reputation as a true rock 'n roll warrior for the rest of his life. The album included breakthrough singles "Don't Do Me Like That," "Here Comes My Girl" and "Refugee." These songs together with later greatest hits like "I Won't Back Down," "Free Fallin'," and "Breakdown" are just some of Petty's songs that became rock anthems. And who can forget Tom Petty and the Heartbreakers heralded halftime performance at the 2008 Super Bowl.
This is definitely a BJS concert not to miss. Get your tickets fast because there is only one concert to experience the unforgettable musical legacy of the late Tom Petty.
Get Tickets HERE
---
Ain't Misbehavin'
The Fats Waller Musical Show
Friday, April 13
7 pm
Adult $20, Student $14
This 1978 Tony Award Best Musical winner is a tribute to the black musicians of the 1920s and 1930s who helped fuel the Harlem Renaissance – an era of growing creativity, cultural awareness, and ethnic pride — that takes its name from the 1929 Fats Waller song. It was a time when Manhattan nightclubs like the Cotton Club and Savoy Ballroom were the playground of high society, where piano players banged out a new beat known as 'Swing'.
The original Broadway production ran for over 1,600 performances, and starred Alabama's own Nell Carter in her Tony Best Featured Actress Musical role, making Ain't Misbehavin' the most successful musical revue in Broadway history.
Get ready for five high-powered performers in an evening of rowdy, fun-filled songs that encapsulates various moods of the era. Most exciting, this Virginia Samford Theatre production is a "preview performance" at The Ritz just days before it opens for VST's Birmingham run.
Get Tickets HERE
---
Annie Moses Band
As seen on public television
Friday, May  18
7 pm
All Seats $22
The Annie Moses Band has been inspiring and entertaining audiences for over a decade with their distinctive style. A captivating blend of folk and classical, the AMB is a talented ensemble of songwriters, singers, and musicians combining exceptional technical skills and exhilarating showmanship.
The Band's innovative sound has delighted audiences around the world – in record breaking number of airings on PBS, and on stages as diverse as Carnegie Hall and the Grand Ole Opry. Members of the Band are also family, six siblings who weave musical styles together into cinematic arrangements with virtuosic Juilliard–honed chops to Nashville-styled music making.
The Annie Moses Band combines the best of beloved genres in a style that unifies audiences, young and old, classical connoisseurs and roots enthusiasts, jazz aficionados and bluegrass buffs. This concert will rank among the most extraordinary musical experiences over 20 years of Ritz presentations.
Get Tickets HERE
---
Spring  2018 Film Series
All tickets $6
CASABLANCA
Thurs & Fri, Mar. 15-16, 7 pm
The Ritz joins in the 75th Anniversary celebration of one of the most critically acclaimed and beloved motion pictures ever made. The iconic film stars Hollywood Golden Era legends Humphrey Bogart, Ingrid Bergman and Claude Raines. Everyone has a date with fate in Casablanca.
FENCES
Thurs & Fri, April 19-20, 7 pm
Based on the 1987 Pulitzer Prize winning play by August Wilson, this critically acclaimed 2017 film was produced and directed by Denzel Washington, who also stars in the movie along with Viola Davis, who won an Oscar for her powerful performance. Both Washington and Davis reprised their roles from the Tony Award winning Broadway play for the film.
LA LA LAND
Thurs & Fri May 10-11, 7 pm
The 2017 hit movie that brought big-time, award winning musicals back into vogue, and grossed $445 million world-wide in the process. The film won six Oscars, stars Ryan Gosling and Emma Stone, and explores the joy and pain of pursuing your dreams. Let's hear it for "City of Stars."
---
2017 Season
Black Jacke Symphony Presents
Queen, A Night at the Opera
Friday and Saturday, March 10 and 11
7:00 pm
All Seats $25
QUEEN, 2001 Rock and Roll Hall of Fame inductees, was one of the elite arena rock bands of the 70s and 80s with an endless list of mega hits. With record sales surpassing 150 million, popularity of their music reached legend status. QUEEN garnered 18 number-one albums, 18 number-one singles and 10 number-one DVDs over two decades – achievements fueled by the incomparable, over-the-top
vocals of their lead singer, the late Freddie Mercury.
Music critics have long viewed A Night at the Opera as the rock masterpiece that propelled QUEEN to stratospheric success. The album's biggest single, Bohemian Rhapsody is consistently voted one of the top rock songs of all time by critics and fans alike. BJS artistic director J. Willoughby is on record, "Given our high standards, Black Jacket would never present the amazing music of QUEEN until we could find that exceptional voice for the Freddie Mercury vocals – We've now found that voice in Marc Martel."
Martel perfectly commanded the challenging Mercury vocals over years of international tours with the 'Official Queen Tribute Show', THE QUEEN EXTRAVAGANZA. This unique credential made him the perfect choice for BJS. One need only join almost 12 million viewers of his EXTRAVAGANZA audition video of Someone to Love, or the 2012 EXTRAVAGANZA debut performance on "American Idol" at YouTube to agree emphatically.
Hurry! Due to a contractually required advance ticket purchase option for Ritz attendees to the last BJS concert, over 50% of available tickets are already sold. This unforgettable BJS concert will include QUEEN hits like Another One Bites the Dust, Crazy Little Thing Called Love, Under Pressure, and the blistering sports anthems We Will Rock You and We Are the Champions just for starters. Mama Mia, Mama Mia — You cannot miss this show!
Get Tickets HERE
---
One Night in Memphis
Presley, Perkins, Lewis and Cash
Friday, March 31 & Saturday, April 1
7 pm
Adult $22, Mezzanine $18
It was an historic and magical night on December 4, 1956 when Elvis Presley, Carl Perkins, Jerry Lee Lewis and Johnny Cash found themselves jamming at the legendary Sam Phillip's Sun Studio in Memphis. Perkins was cutting a record that afternoon; Phillips had brought in new Sun signee Lewis to add keyboard; Elvis, who had moved on to RCA after his Ed Sullivan appearance, was making a courtesy call; and Cash just dropped by. Little did these emerging superstars, all in their pristine early prime, realize this pick-up jam session was being recorded and preserved forever as some of the very best music of that time.
ONE NIGHT IN MEMPHIS recreates this accidental yet legendry jam session, and is the nation's number one tribute show to Presley, Perkins, Lewis and Cash. The show features over 90 minutes of pure rockabilly, country, gospel and rock and roll in an authentic and energetic presentation featuring nationally known talents in the lead rolls — including Brandon Bennett in the Elvis role which he played over a 5-year run of 'Million Dollar Quartet' in Chicago, and Blair Carman, the only Jerry Lee Lewis tribute performer invited to play at the 75th birthday party at the Killer's home in Louisiana.
Countless hits over the careers of Presley, Perkins, Lewis and Cash made all four American music icons.
Anticipating the broad and enthusiastic appeal for this high-powered show, The Ritz booked two MEMPHIS
performances. The evening's all-American music features hits like Blue Suede Shoes, Folsom Prison Blues,
Great Balls of Fire, Whole Lotta Shaking Going On, Shake Rattle and Roll, Don't Be Cruel, Hound Dog and
dozens more. What a night at The Ritz to relive the memories!
Get Tickets HERE
---
Special Tribute Screening of the Classic Award-Winning Film:
To Kill A Mockingbird
Thursday, April 20; Friday, April 21
7 pm
Adult $15, Student $13
Special screenings TBA for academic classes & in closed-caption for the deaf.
In a special tribute to Alabama's most revered and acclaimed literary figure ever, The Ritz is proud to present the Academy Award winning film classic, TO KILL A MOCKINGBIRD. Alabama and the world tragically lost Nelle Harper Lee in February 2016 at the age of 89.
Harper Lee's literary masterpiece about racial injustice is still in print and has sold over 40 million copies. The book has become one of the most beloved and frequently taught works of fiction ever written by an American author. Soon after its publication in 1960, the novel won the coveted Pulitzer Prize for fiction.
TO KILL A MOCKINGBIRD has often been called two books in one – a sweet, often humorous portrait of small-town life in the 1930s, together with a sobering tale of race relations in the Deep South during the Jim Crow era. The book's enduring reputation has been transformative.
In 1962, a film adaptation of the novel was released to universal acclaim. It starred Gregory Peck as Atticus Finch, winning him the Academy Award Best Actor for his unforgettable portrayal of a small-town lawyer defending a falsely accused black man. The memorable roles of Atticus' children starred Alabama natives Mary Badham as the feisty
six-year old Scout, and Phillip Alford as her older brother Jem. Robert Duvall made his film debut as Boo Radley. The film also won Oscars for Best Adapted Screen Play and Best Art Direction.
With the passing of Harper Lee, it feels right to experience again this classic American film.
Get Tickets HERE
---
The Off-Broadway Hit:
The Marvelous WONDERETTES
Saturday, May 13
7 pm
Adult $18, Student $12
THE MARVELOUS WONDERETTES is a musical comedy that became a smash Off-Broadway hit in New York. The show uses pop
songs from the 50s and 60s as a vehicle to tell its story. It is a homage to those high school years of the era, notably the 1958 Springfield High School prom where we meet The Wonderettes, four girls, all singers, with dreams as big as their crinoline skirts. The
play progresses to a reunion of these sometime-friends a decade later when, like often in all our lives, there are unexpected surprises and life rarely turns out exactly like we dreamed it would.
It is exciting to welcome back to The Ritz stage a production from Birmingham's highly regarded Virginia
Samford Theatre (VST). Like a 'killer playlist' of songs from across two eras of American life, the show's featured songs include: ACT I — Mr. Sandman, Lollipop, Dream Lover, Stupid Cupid, Lipstick On Your Collar, Mr. Lee,
Sincerely, and Hold Me, Thrill Me, Kiss Me; and ACT II – Heatwave, It's in His Kiss, You Don't Own Me, It's My Party, Son of a Preacher Man, Leader of the Pack, Rescue Me, R-E-S-P-E-C-T and more. With a smoking band and spot-on performances, who could resist a fun-filled flashback to a simpler time and place.
Get Tickets HERE
---
---
---
This Season
$3 service charge on all credit card charges
2017 FRIENDS of The Ritz Campaign – Tax-deductible FRIENDS membership contributions are a critical funding source for The Ritz as a nonprofit regional performing arts and event center. FRIENDS contributions help underwrite expenses of first-class professional shows and maintain affordable ticket prices.
Most importantly, FRIENDS funding help fund Ritz arts education initiatives with areas schools that impacts over 5,000 students each school year. FRIENEDS benefits include priority seating with timely ticket orders, public recognition by name in all show playbills, along with an annual social event. 2017 FRIENDS membership contribution may be conveniently added to your Spring 2017 Season ticket order form. Annual membership levels are: $50 Individual/Family Friend, $100 Special Friend, $200 Friend Extraordinaire, $500 Ritz Benefactor, $1000 Ritz Legacy Patron. Of course any preferred gift level will be greatly appreciated.
Tickets by Mail: P.O Box 228, Talladega 35161 • Tickets by Phone: 256-315-0000
Tickets by Direct Purchase: Ritz office at 115 North Court Square, 10am-5pm weekdays, or Ritz box office 2 hours before all show times
---
2017 Winter Special
David Phelps in Concert
January 27, 7 p.m.
7:00 pm
Tickets are $40 VIP/Meet & Greet, $24 all remaining Main Floor/Orchestra, and all mezzanine seats are $22.
Group Discount: $2 off per ticket for groups of six or more
Grammy & Dove Award winner
Long-time tenor of the renowned Gaither Vocal Band
Acclaimed soloist of Contemporary Christian Music
---
2016 Fall Season
Rhonda Vincent & The Rage
Thursday, October 20th at 7:00 pm
All Seats $24
$2 off for groups of six or more
Since first performing with her family at the age of five, Rhonda Vincent has become an iconic American bluegrass, singer, songwriter, and multi-instrumentalist. Her passionate mission over a four-decade career has been to expand the musical reach and accessibility of the genre.
The Wall Street Journal has called Vincent the "the new Queen of Bluegrass," and together with her band, The Rage, they have become the most decorated band in bluegrass, with over 100 awards to their credit – including Song of the Year, Entertainer of the Year, and an unrivaled seven consecutive Female Vocalist of the Year awards from the International Bluegrass Music Association (IBMA).
With Rhonda Vincent, we are talking genuine American bluegrass royalty — an acclaimed musician who has earned the admiration and respect of her mostly male peers for her mastery of the progressive chord structures and multi-range, fast paced vocals intrinsic to bluegrass music. And she does so with the artistry that brilliantly reaches beyond the boundaries of bluegrass, and that powers one of the most amazing concert "Vincent and her band are dazzling from performance experiences of any musical genre, anywhere.
---
Black Jacke Symphony Presents
Prince's Purple Rain
Friday, December 2nd at 7:00 pm
All Seats $25
Losing an iconic musician is tough. Losing a musical genius is worse.
Prince was a musical innovator known for his eclectic work, flamboyant stage presence and wide vocal range. His music encompassed R&B, rock, pop, funk and even gospel. He could sound innocent, forlorn, bluesy, funny, sexy, seductive, desperate and mysterious. He could bring tears to your eyes – just check out the video of his guitar solo on "While My Guitar Gently Weeps" at his 2004 Rock and Roll Hall of Fame induction ceremony.
One of Prince's most memorable albums holds together best. One album covers all his musical bases and showcases all his amazing talents – songwriting, guitar playing, onstage presence, soul. One album has sold more than 13 million copies in the U.S. alone and encapsulates the celebration of his life. That one signature album is PURPLE RAIN.
The soundtrack to the movie of the same name, PURPLE RAIN won Grammys for Best Rock Vocal Performance by a Duo or Group and Best Album of Original Score Written for Motion Picture or TV Special. This Prince masterwork also won the Academy Award for Best Original Song Score. Its music and
its legacy has held up well over the years, and the Library of Congress placed PURPLE RAIN on its National Record Registry, which includes recordings that are "culturally, historically, or aesthetically important, and that inform or reflect life in the United States
As only they can, Black Jacket Symphony will perform PURPLE RAIN in its entirety, followed by a second set of Prince's greatest hits. We unfortunately were unable to book a second show, so do not delay getting tickets to this absolutely certain sold-out concert experience.
---
Charles Dickens'
A Christmas Carol
Monday, December 5th at 7:30 pm
Adult $18 • Student $12
$2 off groups six or more
What better way to get into the joyful spirit that is Christmas than to enjoy a delightful and entertaining adaptation of the classic Charles Dickens' A CHRISTMAS CAROL, a story that has enchanted audience the world over for over 150 years with its simple message of holiday joy.
This acclaimed national touring production captures one of literary history's most memorable stories of redemption – that of Ebenezer Scrooge, a most unrepentant and miserly fellow who is made to understand the joy of love and generosity toward his fellow man after surviving a merciless battery of revelations from ghosts of his own life. Dickens story has remained a beloved Christmas story over the decades because, through the voice of Scrooge, we are urged to embrace Christmas in our hearts and keep it all the year.
The production boasts a new script adaptation, visionary direction, and a riveting performance as Scrooge by award-winning, 40-year theatre veteran Scott H. Severance. This glorious new version of a classic fable fills the stage with a first-class cast, lush costumes, stunning sets and puppetry, song and dance, along with a heavy dose of humor and timeless message.
Featuring the music of 26 beloved traditional carols of the season woven throughout the evening, this emotionally powerful production celebrates the true spirit of Christmas with its haunting special effects and heartfelt sentiment.
Tickets to A CHRISTMAS CAROL are attractively priced for the perfect group or family outing. The 7:30 curtain immediately follows the 2016 Talladega Christmas Parade.
Charles Dickens Influence on Christmas Today
Historians credit Charles Dickens' 1843 Victorian morality play, A CHRISTMAS CAROL, with having a significant influence in renewed public enthusiasm for celebrating Christmas in the 19th Century as a family centered holiday of generosity. The prominent phrase "Merry Christmas," frequently used throughout the story, remains today the most popular holiday greeting around the world.
---
This Season
$3 service charge on all credit card charges
2016-2017 FRIENDS of The Ritz Campaign – Tax deductible FRIENDS membership contributions are a critical funding source for The Ritz as a nonprofit regional performing arts center. FRIENDS membership contributions help underwrite expenses of first-class shows, and help maintain affordable ticket prices for the broadest possible audience. Importantly, FRIENDS financial support also helps fund Ritz arts education initiatives that will impact over 4,500 area students this school year. FRIENDS receive priority seating with timely received ticket orders, and are publicly recognized in playbills for all shows. FRIENDS membership is active for one full year from payment date. 2016-2017 FRIENDS membership contribution may be conveniently added to Fall 2016 Season ticket order form. Annual membership levels are: $50 Family Friend; $100 Special Friend; $200 Friend Extraor-dinaire; $500 Ritz Patron and $1,000 Ritz Legacy Benefactor. Of course any preferred gift level will be greatly appreciated.
Tickets by Mail: P.O Box 228, Talladega 35161 • Tickets by Phone: 256-315-0000
Tickets by Direct Purchase: Ritz office at 115 North Court Square, 10am-5pm weekdays, or Ritz box office 2 hours before all show times
---
---
2016 Spring and Summer Season
Black Jacket Symphony:
EAGLES HOTEL CALIFORNIA
Friday & Saturday, March 11 & 12 at 7:00 pm
All Seats $25
The Eagles is an American country rock band that became one of the world's best-selling bands of all time, having sold more than 150 million records.
Hotel California was the band's fifth studio album in 1976 and a best-seller with over 32 million copies sold worldwide. Three singles were released from the album – "New Kid in Town" and "Hotel California" both hit No. 1 on Billboard and won Grammy Awards, and "Life in the Fast Lane" was a huge hit as well. The album's iconic cover is a photograph of the Beverly Hills Hotel by David Alexander.
This will be the fourth Ritz concert appearance by Black Jacket Symphony, who has built a huge regional fan base in response to their extraordinary symphonic approach to recreating classic rock albums note for note and sound for sound. Contractually, BJS requires advance sales for the next booked show to begin at intermission of the concert at hand. As a result, the March 12 "Hotel California" concert sold out quickly last fall. Yet we are thrilled for the opportunity to schedule a second March 11 concert.
With the recent untimely death of Eagles co-founder/lead singer Glenn Frey, public reflection on the band's lofty status in American music history is at a peak and this second concert is a certain sell-out. Hurry!
---
Woodlawn: Special Screening Event
Friday & Saturday, April 1 & 2 at 7:00 pm
Tickets: Adult $7, Student $5
Woodlawn, the motion picture, is based on true events surrounding the 1974 Banks and Woodlawn football game at Birmingham's Legion Field. That historic game still holds the record for the largest attendance at an Alabama high school football game. The film follows Woodlawn running back Tony Nathan's recruitment by the legendary Alabama football coach Paul "Bear" Bryant (played by Academy Award winner Jon Voight) during a period when the state was embroiled in racial tensions.
This film was shot on location in Birmingham and produced and directed by Jon and Andy Erwin, whose father is the real-life chaplain character in the movie. National film critics typically are not kind to faith-based, inspirational films, yet Woodlawn laid waste to convention with almost universal critical acclaim for this real-life story. Equally vital to an independent film's success is fan reviews and word of mouth, Woodlawn ranked among the most favorable in all national fan review polls for major films released in 2015.
With great excitement, join our celebration of The Ritz' major capital investment to upgrade capacity to screen films which will be unveiled with Woodlawn – a new automatic full-proscenium screen, surround-sound, digital soundboard and projector. Films at The Ritz are going to be a whole new ballgame!
---
Adam Trent: The Futurist
Straight From Broadway Run
Saturday, April 23 at 7:00 pm
Tickets: Adult $20, Student $14
We have a Special Family Pricing — with a full-priced parent/adult ticket, first student is free and additional students on same order are half-price (or just $7). Offer not available online, only by phone or at Ritz box office.
Adam Trent is one of the most in-demand young illusionists working today, and was a star in record-breaking runs of The Illusionists on Broadway in 2014 and 2015. With over 300 sold-out appearances a year, Trent has been described as "Justin Timberlake meets David Copperfield" due to his high-energy, interactive performances which are part magic, part concert, and part stand-up comedy.
Adam Trent is "a long way from the stale magicians of the past," says the Associated Press, blending hip dancing and singing of his original pop music, innovative stage illusions, charming wit, and kinetic energy that fuels an entertainment experience you'll be talking about for years. Not only is Trent one of the youngest international award-winning magicians in history, U.S. News & World Report named him 'One of the Ten Most Influential Youths in America'. He is also the recipient of the 'Men in Pink Award' from the Susan G. Komen Foundation for the Top Ten Men who have stood up to cancer.
You can't miss the show audiences are calling "thrilling," "surprising," "funny" and "extremely entertaining." And definitely, do not leave the kids at home. Adam Trent: The Futurist has genuine heart and mesmerizes everyone!
---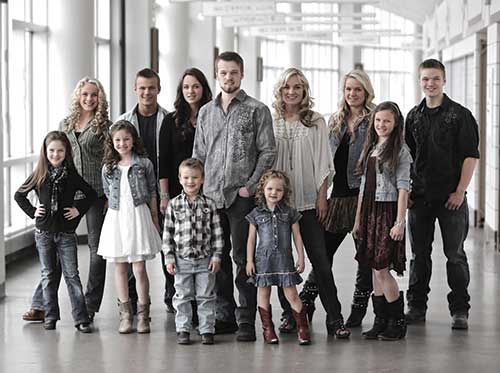 The Willis Clan
Special Encore Performance
Saturday, May 14 at 7:00 pm
Tickets: Adult $20, Student $14
The Nashville based family band known as The Willis Clan has firmly established themselves as one of the hottest acts in American entertainment. Fueling their exploding popularity is the unique mix of talents among the twelve Willis siblings, ranging in ages 5-23, who have quickly matured into seasoned performers of Country, Bluegrass and Irish music – and they can hold their own with the most seasoned musicians working anywhere.
With now over 50 guest appearances at the Grand Ole Opry, The Willis Clan have become favorites of Opry fans everywhere. Add to that resume being quarter finalists on America's Got Talent, winner of NBC's national search for the 'Next Sound of Music Family', and the 6.4 million YouTube views of their performance of "My Favorite Things" on The Today Show. Clearly this talented family is rapidly becoming a household name across America due to the exploding popularity of their hit reality series on the TLC Cable Network, The Willis Family, which just concluded its highly rated second season.
Last fall's Willis Clan appearance at The Ritz blew folks away, with the bulk of the audience largely out of town fans from across the Southeast. For this performance, better get your tickets early, gather together your own clan and get ready for the some of the best singing, dancing, wholesome humor and youthful vitality like you've never before experienced.
So plan your family outing now. You've never witnessed such joyful sounds and wholesome fun on The Ritz stage.
---